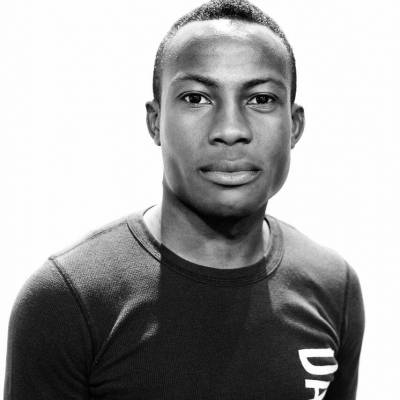 Contact Info
Jason Aryeh is a traditional and contemporary trained dancer and historian from the coastal area of Accra- Ghana, born into the Aryeh family of court traditional historians and dancers of the Ga-Ngleshie people. Aryeh has toured the world extensively with traditional and contemporary West African dance groups, and has diverse experience as a performer, teacher, choreographer, and movement research scholar throughout West African and the United States.
Aryeh is the Artistic Director and Founder of Africa Alive Dance Company, a project research-oriented movement performance ensemble, resident in Accra. He was the lead Dancer and Choreographer for the Performing Arts Workshop (PAWS), a resident performance dance company affiliated with the University of Ghana. Aryeh was also a featured performance soloist and Choreographer for the Sankofa African Dance and Drum Company affiliated with the State University of New York, College at Brockport. He was the Director, Choreographer and movement research scholar for the resident Theater Company at the Center for National Culture, Sunyani, Brong-Ahafo Region, Ghana.
Jason Aryeh earned his Bachelor of Fine Arts (BFA) degree in Dance and African Studies from the University of Ghana and his Master of Fine Arts (MFA) degree in Performance and Choreography Studies from State University of New York, College at Brockport. He has shared his research expertise both in the classroom and in the movement studio at; University of Ghana, Salem College, Roger Williams University, University of Rochester, Spring Field College, University of Southern Mississippi, Darton State College, East Carolina University, Goucher University, University of Florida, Elon University, University of North Carolina, Greensboro, Hobart and William Smith College, State University of New York, College at Brockport and Northern Guilford High School.
Aryeh was Awarded the Wilhelmina Boyd Community Service by the Black Student Union for the outstanding contribution to the Black Student community and the outstanding Black Faculty in recognition of Teaching and considerable Skill in Motivating and Inspiring students by the Elon Black Cultural Society presented at the Black Excellence Awards.
Education:
M.F.A.,

State University of New York, College at Brockport

B.F.A., University of Ghana