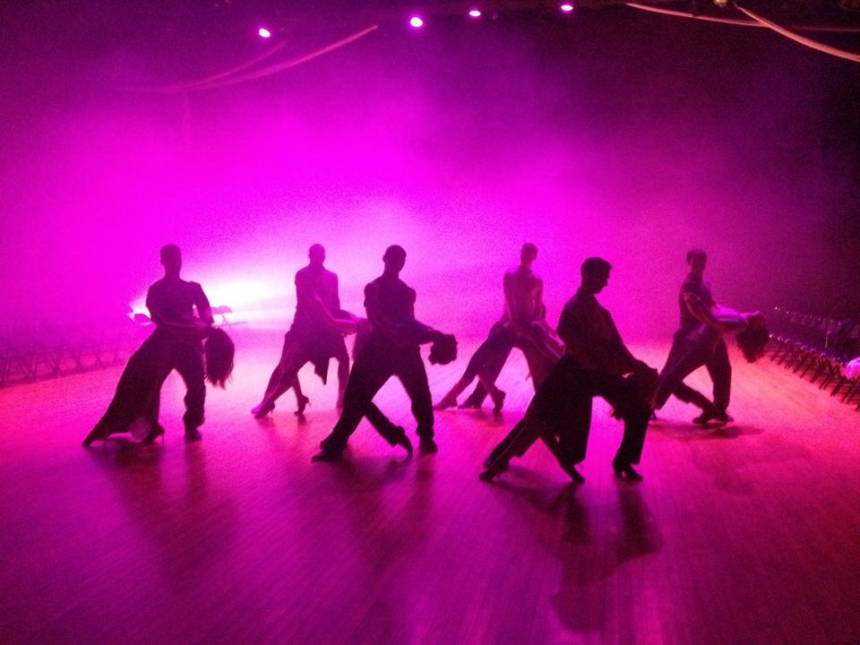 The UGA Ballroom Performance Group (BPG) was founded in 1991 by Dr. Mark Wheeler and is currently co-directed by Natalie Cox and Michael Fulford. BPG is a registered Student Activities organization, which enjoys the support of the Department of Dance. The group performs on campus, in local schools and nursing homes, on tour for charity and alumni events, and around North Georgia. The company's program consists of choreographed pieces in a variety of styles, including cha-cha, foxtrot, salsa, quick-step, rumba, samba, east coast swing, west coast swing, tango, Viennese waltz, and slow waltz.
Auditions are held at the end of each semester for positions in the group, which generally numbers between 45 and 60 members. New members spend at least one semester in training as apprentices before performing in showcases with the Ballroom Performance Group.
During the school term, officers and members of the group host Friday Night Dance Parties (FNDP) every first and third Friday of the month in Studio 276 / New Dance Theatre. The dances include a free, one hour beginner lesson at 7pm and social dancing from 8:00 to 10:30pm ($3 students, $5 general). FNDPs are open to the community and students alike who are interested in learning partner dancing and engaging with others through dance.
Each January, the group performs BALLROOM MAGIC, a showcase of 20-25 choreographed pieces in the New Dance Theatre. With four performances, Ballroom Magic draws packed crowds to enjoy a theatrical dance showcase like no other.
For more information, please visit: www.ugaballroom.com or like UGA Ballroom Performance Group on Facebook.